Crochet Stitches
Crochet stitches are made by crochet hooks to create fancy patterns of fabric. You can use them to make items of clothing, accessories like hats, bags and blankets, rugs, etc. While a beginner would want to start off with the simple, basic stitches, experts find solace in the complicated and unique ones. A complete list of the cool stitches according to their types would help you in choosing the best one for your project. They enable you to make fun, interesting, creative, unusual and intricate designs.
Different Types of Crochet Stitches Based on Difficulty
Basic Crochet Stitches
Single crochet stitch
Double crochet stitch
Half double crochet stitch
Treble crochet stitch
Easy Crochet Stitches for Beginners
Crochet chain stitch
Moss stitch
Advanced Crochet Stitches
Crocodile stitch
Bullion stitch
Crab stitch
Solomon's knot stitch
Crochet loop stitch
Kinds of Crochet Stitches Based On Looks
Textured Crochet Stitches
Raised Crochet Stitches
Crochet Stitches Based On Use
Tunisian Crochet Stitches
Tunisian simple stitch
Tunisian reverse stitch
Tunisian knit stitch
Tunisian purl stitch
Tunisian honeycomb stitch
Tunisian basketweave stitch
Crochet Lace Stitches
Diamond lace stitch
V-stitch
Pineapple lace stitch
Open checker stitch
Iris stitch
Crochet Edge Stitches
Crochet Stitches in The Round
Decorative Crochet Stitches
Woven stitch
Spider stitch
Note that bulky yarn can make your crochet stitches nice and large and add to the coziness of your crocheted garments. Super bulky yarn also works up pretty fast. The basic crochet stitches, v and puff stitches especially look good with thick yarn.
The shell stitch is great for scarves, baby blankets, sweaters, afghans, dishcloths and wash cloths. It can also be used to give a decorative scallop edging to your crocheted pieces. The slip stitch is small (using less yarn) and loose while the v-stitch is quite tight. The lacy iris and v-stitches can be used in creating shawls and boleros for spring while the dense woven and spider stitches suit warm clothes meant for winters. Give your pieces a neat look by endowing them with borders in the form of beautiful crochet edging.
Knitting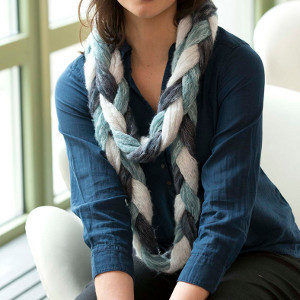 Who doesn't love to indulge in the warmth of a close-woven scarf in winter? But, with commercial scarves costing a fortune, and knitting ...
Lace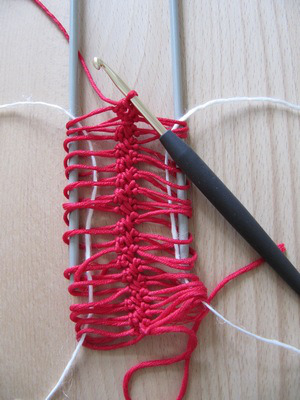 The hairpin lace is an easy crocheting technique that can produce delicate lacy patterns. There is a wide variety of garments and ...