Crochet Hook
A crochet hook or needle helps in making the stitches and plays an important role in the success of a crochet project. There are various things to consider before getting a hook for yourself, like the shape of the hook, its material and the size. This article would assist you in that front by listing the different types of crochet needles with their recommended brands and a handy size conversion chart.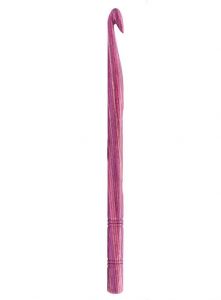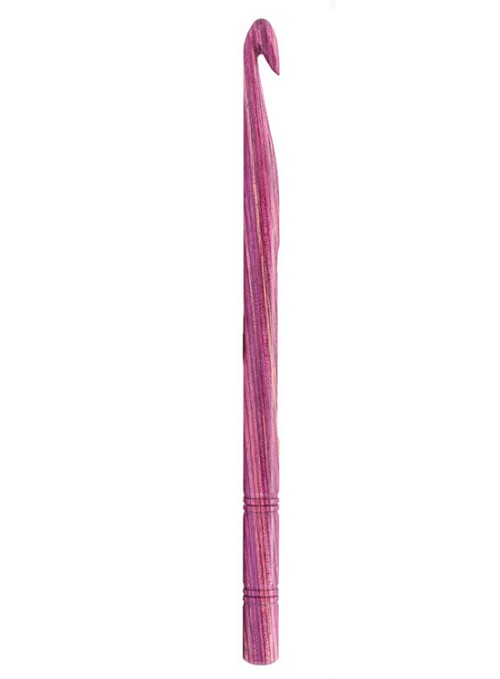 Crochet Hook Types
Depending On Use
Standard Crochet Hook
This is the most common kind of crochet hook that can be used in a multitude of projects. Essentially consisting of a hook-shaped structure atop a long handle, this can, in all likeliness, be your first crochet needle.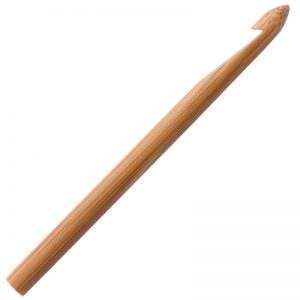 Our Recommendations for Standard Crochet Hooks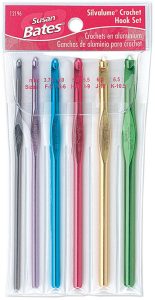 1. Susan Bates Silvalume Crochet Hook Set in Pouch Sizes F, G, H, I, J, K
Made of aluminum, these crochet needles are lightweight. They are polished for a smooth, velvety finish. It is a set of six hooks with inline heads of sizes 3.75 mm, 4 mm, 5 mm, 5.5 mm, 6 mm and 6.5 mm.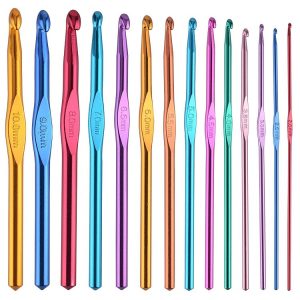 2. BCMRUN 14 pcs Multicolor Aluminum Crochet Hooks Knitting Needles Craft Yarn 2-10mm
These inline aluminum crochet hooks are lightweight and very easy to use. They come in a handy bag for ease of portability and storage. That the set doesn't burn a hole in your pocket is a plus.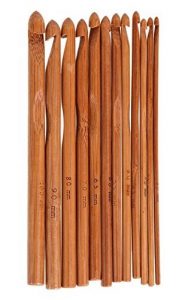 3. ZXUY 12pcs 6″ Bamboo Handle Crochet Hook Knit Craft Knitting Needle Weave Yarn 3-10mm
Made of bamboo, this set is lightweight and boasts of a smooth finish. They come with a cheap price tag. Even after prolonged use, they don't get hot or cause your hands to sweat.
Tunisian Crochet Hook
Specifically designed for Tunisian or Afghan crochet, these needles are long and come with a stopper. Like knitting needles, you keep your stitches on your hook as you crochet the fabric.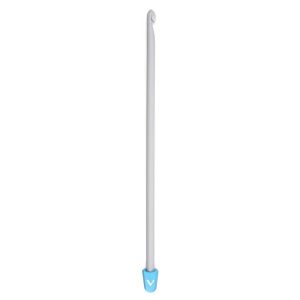 Variations of this type can include a double ended hook, and a pair of two individual crochet needles connected by a cord that earns them the name, circular crochet hooks.
Our Recommendations for Tunisian Crochet Hooks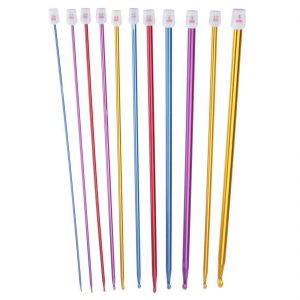 1. Zuoyou Crochet Hooks 11 Pack Diverse Size Assorted Color Tunisian Afghan Aluminum Knitting Needles Set (2mm to 8mm)
These lightweight, aluminum hooks are smooth to touch and ensure comfortable crocheting. The cheap price and ease of use would make you want to go for them.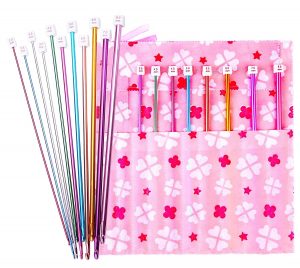 2. Tunisian Crochet Hooks Set Afghan Crochet Hook Tunisian Crochet Needles 11-Pack
At 10.5" length, these aluminum hooks are ideal for small projects like scarves, socks and baby sweaters. The roll-up pouch bag that houses the needles neatly is convenient to carry around while traveling and offers a visual treat.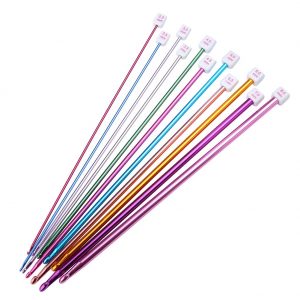 3. Valar Dohaeris Crochet Hooks 11 Pack Diverse Size Assorted Color Tunisian Afghan Aluminum Knitting Needles Set (2mm to 8mm)
The smoothness and lightness of the hooks make crocheting an enjoyable affair. They don't snag and are cheaply priced. Boasting of an enviable color combination, they come in a variety of sizes.
Ergonomic Crochet Hook
People with hand conditions like arthritis or carpal tunnel find it difficult to work with standard crochet hooks for extended periods of time. Ergonomic crochet hooks with much larger and softer handles boast of a grip that eases crocheting by notches. They make it healthier too by keeping your fingers in a neutral, relaxed position.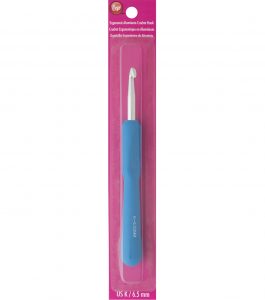 Our Recommendations for Ergonomic Crochet Hooks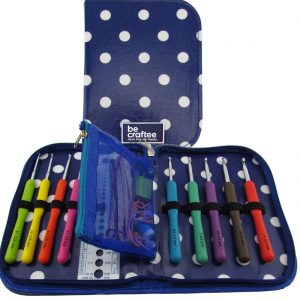 1. Best Crochet Hook Set with Ergonomic Handles for Extreme Comfort. Perfect Crochet Hooks for Arthritic Hands, Smooth Knitting Needles for Superior Results & 22 Knitting Accessories.

This set of crochet needles comes replete with 31 crocheting accessories like a stitch marker, sewing needles, etc. The compact case for the hooks is travel-friendly while the hooks themselves are super comfortable with rubber handles.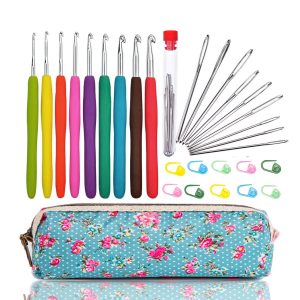 2. WooCrafts Large-Eye Blunt Needles Yarn Knitting Plus Crochet Hooks Set with Case,Ergonomic Handle Crochet Hooks Needles for Arthritic Hands.Best Gift!

This is a complete package with 9 large-eye yarn needles, stitch markers and an attractive case. The ergonomic grip, non-slip handles of the hooks make crocheting a pleasing experience to arthritic and fatigued hands.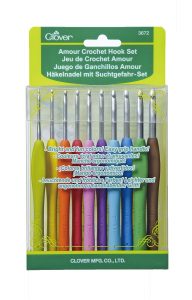 3. Clover 3672 Amour Crochet Hook Set, 10 sizes

The easy-to-grip, soft rubber handles make this set ideal for people who want stress free crocheting. The optimal hook shape allows the yarn to slide smoothly. The fun, vibrant colors that help in identifying the various sizes come as a plus.


Depending On the Structure
Beginners as well as experts can choose any of the two hook types mentioned below depending on their comfort levels.
Tapered
The throat (that is the part of an upright crochet needle just below the actual hook,) of a tapered hook has a smooth decrease allowing the yarn to slip easily. It suits finer weights of yarn.
Inline
Its throat has a rigid decrease that tends to have a tighter hold on the yarn.
Depending on Crochet Hook Sizes
The crochet hook size is nothing but the diameter of the shaft (the part of the hook between the point and the handle). It determines how big your stitches will be. Note that the weight of your yarn should correspond with your crochet hook size. Thinner, lace weight yarn should be paired with smaller hooks, while bulky yarn would be the perfect accompaniment for larger hooks.
Crochet Hook Size Conversion Chart
| | | |
| --- | --- | --- |
| Metric Size | UK Size | US Size |
| 2.00 mm | 14 | – |
| 2.25 mm | 13 | B/1 |
| 2.50 mm | 12 | – |
| 2.75 mm | 11 | C/2 |
| 3.00 mm | 11 | – |
| 3.25 mm | 10 | D/3 |
| 3.50 mm | 9 | E/4 |
| 3.75 mm | – | F/5 |
| 4.00 mm | 8 | G/6 |
| 4.50 mm | 7 | – |
| 5.00 mm | 6 | H/8 |
| 5.50 mm | 5 | I/9 |
| 6.00 mm | 4 | J/10 |
| 6.50 mm | 3 | K/10.5 |
| 7.00 mm | 2 | – |
| 8.00 mm | 0 | L/11 |
| 9.00 mm | 00 | M/13 |
| 10.00 mm | 000 | N/15 |
| 11.50 mm | – | P/16 |
| 15.75/16 mm | – | Q |
If you find your crochet stitches to be too loose, you should go down a hook size and if they are too tight, go for a greater hook size. A beginner should work with size G or H crochet hook and worsted weight yarn.
Depending On Material
Metal – Smaller hooks that are called thread crochet hooks are mostly made of steel. They should be used with fine lace thread. That they don't bend, unlike the smaller hooks of other materials, comes as a plus. Aluminum hooks allow smooth and quick movements and are available in a broad range of sizes. However, beginners should avoid using them as they might find them to be too slippery, more so since they take more time with their stitches causing their hands to sweat.
Plastic – Being hollow, these hooks are lightweight. They come in all common sizes as well as jumbo dimensions. Having a slight texture, they are not as smooth as the metallic ones but cheaper. Beginners would find it easy to manipulate stitches with them. If your hand sweats a lot, this kind of needle is not for you.
Wood – Bamboo crochet hooks are naturally warm to hold and lightweight. They are available in all sizes excepting jumbo and smallest sizes. Endowed with a good grip and having enough texture that prevents the stitches from slipping off, they are ideal for beginners. However, they are costlier than plastic and metal ones.
Video: How to Hold a Crochet Hook (for Beginners)
With the above types as your guide, you can zero in on the right crochet hook for your projects. They ensure that you spend your crocheting hours immersed in pure bliss. The garment or accessory that you create with the needles would stand testimony to your efforts, love and care in making them.
Related Articles
Join Our Mailing List
Sign up to get the latest updates, along with fresh patterns and tutorials, right to your inbox