Crochet Shell Stitch
Shell stitch is one of the most beautiful crochet stitches, without being much difficult. With the help of this stitch, you can work the borders of any fabric as well as make pretty fingerless gloves, flowers and infinity scarves. Once you become a proficient in the stitch, a wide arena of crocheting options will open up before you.
How to Crochet the Shell Stitch
When attempting it for the first time, it would be better if you work with a single color. Once you understand the technique properly, you can try vibrant color combinations, working different rows with different colors.
Step 1: Make a foundation chain.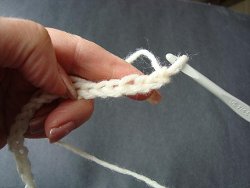 Step 2: Do a double crochet in the 3rd stitch from the hook.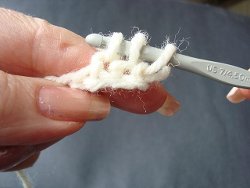 Step 3: Now, make four more double crochets in the same stitch.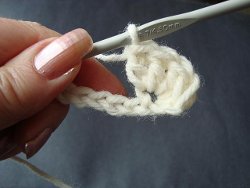 Step 4: After skipping the next 3 stitches, make 5 double crochet in the fourth stitch.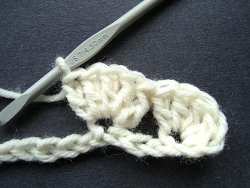 Step 5: Repeat the instructions in step 4 throughout the entire row.
Step 6: After reaching the end of the first row, turn, perform slip stitches on the first 3 stitches; make 2 chains followed by 4 double crochets in the same stitch. Then repeat step 4 for completing the row.
Step 7: For the first stitch of each row, repeat step 6, followed by the same you did in step 4. Your pattern should look something like this: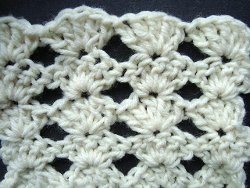 Shell Stitch Crochet Video
Variations in Shell Stitch Crochet Patterns
Minor variations in the basic stitch give rise to different styles of shell stitch. You can crochet cozy ponchos, potholders, preemie hats and shawls using variations like shell lace, crazy, offset and raised shell stitches.
Other types, such as reversible double shell crochet, winking, umbrella and lattice shell stitches can make stunning raised slouchy hats, tops, sweaters, throws, vests and washcloths. Options are galore with caps, diaper covers, dishcloths and ear warmers fighting for space.
Shell Stitch Crochet Uses
Shell stitch crochet baby blankets can be the cutest thing you ever make if done the right way. Just play with yarn and crochet up a storm to create a wonderful gift. Lovely scarves can also be made using this stitch.
Afghan patterns done in this stitch are dainty to flaunt. You can easily get various free blanket and baby afghan patterns on the internet. Any piece of garment, for that matter, can exude a sophisticated look if done with shell stitch edging.
The stitch makes luscious hats for everyday wear or photo props. Utilize it to make decorative beanies, headbands, baby dresses, bags, cardigans and cocoons. Crochet patterns using shell stitch make enchanting lap blankets, purses, prayer shawls, wraps, wrist warmers too.
You can start with something easy like a cowl or a dishcloth. Once you get the hang of the technique by working a few rows, you can shell stitch pretty fast. After all, practice makes perfect.
Related Articles
Join Our Mailing List
Sign up to get the latest updates, along with fresh patterns and tutorials, right to your inbox