Sewing Thimble
When you hand sew, the blunt end of the needle tends to cause your finger to hurt as you push the needle through the fabric layers. A thimble is worn like a cap on your fingertip, protecting it and giving it a good needle pushing strength as you sew. It also relieves the strain on your fingers when you pull the needle through the fabric. Usually, it is worn on the middle finger, but you can wear it on your index finger or thumb depending on how you sew.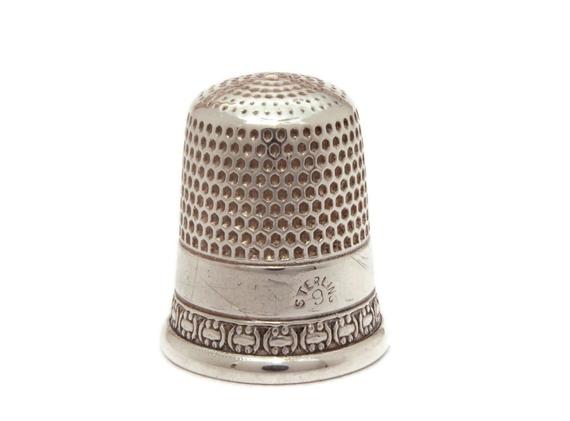 Things to Keep In Mind before Buying a Sewing Thimble
Size
You should choose a thimble size that is a comfortable fit for your finger. To test the fit, wear it and hang your hand to one side. Then move your fingers around. If it fits perfectly, it won't fall off. If it squeezes your finger, it is too tight. You would find that some manufacturers provide you with a size chart that requires you to measure the circumference of your finger at the tip. Others require you to do calculations involving your ring size.
Material
Metal thimbles have been around since ages. You would find almost all the antique ones made of metals such as brass and silver. They are durable and perfect for beginners. In modern times though, the leather, rubber and plastic thimbles that are not as stiff and hard, give them tough competition. The leather ones are flexible, become softer and conform to your hand with use. Plastic ones are not as soft, but they too mold nicely to the natural hand shape. Rubber thimbles are flexible and give a comfortable fit.
You need to choose a durable, breathable material that won't make your hands sweat. Most of the materials mentioned above fit the bill having holes or dimples that allow air circulation. They should also have grooves or dimples at their tips to prevent the needle from slipping.
Type
Thimbles can be of two types, closed top and open top. A closed top thimble, as the name suggests, covers your fingertip fully like a dome. One with an open top has the entire top missing. You have to slip it on your finger and move it down till it sits snug. It is particularly advantageous for those with long nails allowing you to push the needle with the sides of the thimble. Also, some people find a sense of better control with their fingertips sticking out.
5 Of the Best Sewing Thimbles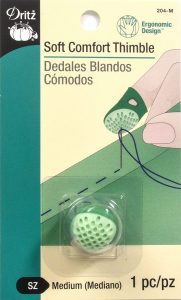 1. Dritz 204-M Soft Comfort Thimble
Pros: Made of soft plastic, this flexible thimble conforms to your finger, giving you a very comfortable fit. Boasts of air vents around the body, superior texture that holds on to your skin securely.
Cons: Doesn't work for your thumb, unless you have a tiny one. Some people with average sized hands have complained about its faulty sizing.
Final Word: This one scores with its comfort and flexibility. The deep dimples at the top prevent your needle from slipping off.
2. CLOVER Natural Fit Leather Thimble
Pros: Just after a few hours of sewing, it molds nicely to your finger. Gives a cozy, natural fit. Available in 3 different sizes and at a reasonable price.
Cons: A bit on the heavier side and the shape looks slightly awkward.
Final Word: If you are used to the hard metal thimbles, this soft leather one would be a welcome break. Don't worry. There are no seams or stitches on the part where the needle hits the thimble.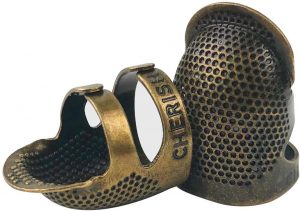 3. D&D Adjustable Sewing Thimble
Pros: The brass thimble is open at the top, making it perfect for long fingernails. Available in two sizes. Adjustable bands at the back allow a snug fit. The dimpled pattern prevents needle slippage.
Cons: Not available in a size that suits large hands. Few people have complained that after sewing for a long time, the bands can dig into your finger, causing hurt.
Final Word: If you are a beginner and love vintage-looking thimbles, this one is for you. The breathability of the design is an added advantage.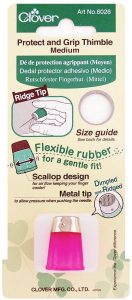 4. CLOVER Protect & Grip Thimble
Pros: The combination of metal and rubber endows this lightweight thimble with a comfortable grip on your finger without compromising on the strength. Has a ridged and dimpled metal cap. Available in two sizes.
Cons: There is a learning curve to using this thimble and it only works with certain stitches.
Final Word: You need to try this one for yourself to know if it suits you. There are many who swear by this spacious, hybrid thimble.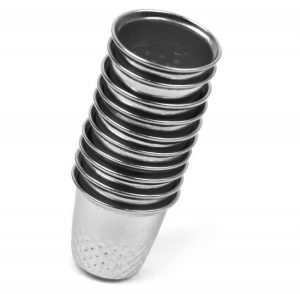 5. CJESLNA Vintage Sewing Thimble
Pros: Set of 10 pieces of metal thimbles. Ideal for sewing a variety of materials like fabric, canvas, leather, etc. Has dimples at the sides and the closed end.
Cons: The ridges on the thimbles look a bit flimsy. Adults with average sized hands have found them to be too small. But suitable for children, teenagers and adults with fairly small hands.
Final Word: Though these thimbles neither look fancy nor are of a very high quality, they are extremely functional.
How to Use a Thimble for Hand Sewing
The perfect thimble could be your best sewing companion without giving you the feeling that it ever existed on your hand. It should be like your second skin and you should go about your work as if you weren't even wearing one. If you are not accustomed to using the thimble, give it some patience and practice and we bet it would become as essential to sewing as your needle!
Related Articles
Join Our Mailing List
Sign up to get the latest updates, along with fresh patterns and tutorials, right to your inbox