Embroidery Scissors
Embroidery scissors are specially designed scissors that are used in cutting sewing threads and multiple embroidery threads. They usually have long pointed tips that enable you to cut threads in tight spaces precisely with clean, sharp cuts. They are smaller than regular scissors ranging in size from 3"-6" with blades that are thin and long for ease of maneuvering.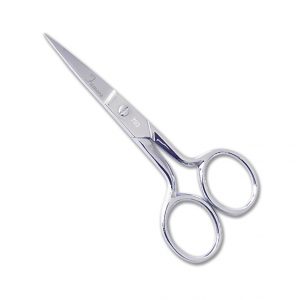 Things to Look Out For In Your Embroidery Scissors before Buying Them
Type
The straight embroidery scissors are the most common with straight blades apt for delicate needlework. You can use them for embroidery, cross stitch and applique.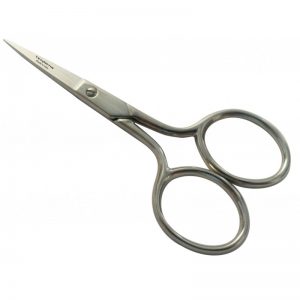 Curved embroidery scissors having curved blade tips are suitable for rug hooking and cutting fine fabric threads or needlepoint. Double curved embroidery scissors are angled at the base of the handle, too, allowing the tool to easily reach over any machine or hand hoop. They also help to keep your hand above the surface of the fabric.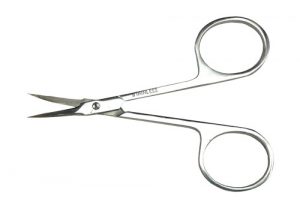 Stork embroidery scissors have a fancy stork-like shape and can be a collectible or gift. They would be a decorative addition to your sewing box. You would find antique scissors in this unique bird shape.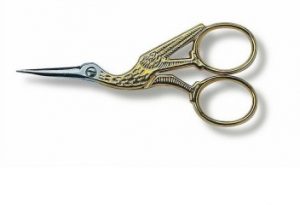 If you carry your tiny embroidery scissors with you while traveling, try the folding ones that are compact and don't pierce your bag with their sharp tips.
Size
Smaller sizes of embroidery scissors allow you to gain more control over the tool, help you manipulate and cut close to your work. So go for ones that are 3"-4" long. There are also mini embroidery scissors that can be as small as 2".
Sharpness
Sharp embroidery scissors allow you to cut threads neatly without fraying their ends, something that reduces the challenge of threading your needle. They should be able to cut any thread with a single snip avoiding shredding.
Comfort
The finger holes of your cutting tool should be large enough to hold your fingers comfortably. There are embroidery scissors that are specially designed for left-handers.
Designs and Colors
Just because your pair is functional, doesn't mean that it can't be cute. There are embroidery scissors in cool unicorn, skull, angel, cotton candy, Eiffel tower, fairy, floral, heart, witch, animal (rabbit, cat, crane, owl, sheep, swan) patterns. There are a wide range of colors you can choose from like gold, silver, pink, rose gold, black, rainbow and so on. A beautiful, ornate pair in your sewing kit can create quite a style statement.
Safety Features
For lasting sharpness of your cutting tool, choose a pair that comes with a protective sheath or case. The accessory makes it travel friendly and safe, especially if you have kids. If your scissors don't come with one, you can buy it separately.
5 Of the Best Embroidery Scissors
1. SINGER ProSeries Detail Scissors with Nano Tip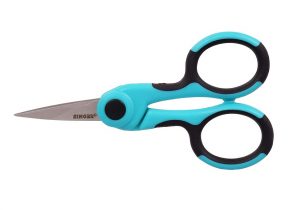 Pros: The sharp blades and tips allow accurate cuts. Pretty teal color. Comfortable rubber handles.
Cons: Doesn't come with a protective sheath.
Final Word: This one scores with its ability to trim threads near fine details with high precision and speed.
2. BIHRTC Vintage European Style Scissors for Embroidery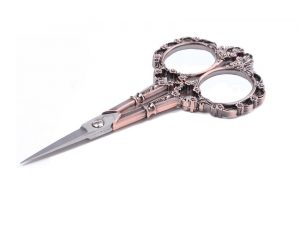 Pros: The vintage style decorative design makes it a beautiful gift for a sewing enthusiast friend. Sharp and durable stainless steel blades. Comfortable handles.
Cons: People have complained of its handles coming off with use.
Final Word: If you are looking for a fancy pair of embroidery scissors that do their job well, look no further.
3. Westcott Curved Embroidery Scissors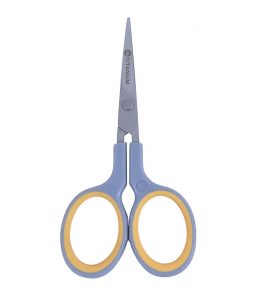 Pros: Stainless steel blades stay sharp for a long time. They are titanium bonded for corrosion resistance. The soft grip material makes the handles comfortable to use. Can be used for machine embroidery as well.
Cons: Some have found the handles to break while dealing with multiple threads. However, the company has its return and replacement policies in place.
Final Word: This pair is the best for needlepoint and fine embroidery on thin fabric.
4. Gingher Stork Embroidery Scissors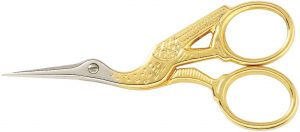 Pros: Gold plated handles. Sharp nickel-plated blade offers fine trimming and precise snips. Accompanying leather sheath for protecting the scissors when not in use.
Cons: Expensive.
Final Word: If you want a sophisticated pair of embroidery scissors that can be an heirloom, this one is for you.
5. Fiskars Forged Embroidery Scissors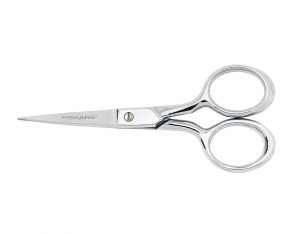 Pros: Forged steel blades boast of long-lasting sharpness and durability catering to your delicate cuts. Balanced design with double loop handles suitable for both right and left-handers.
Cons: The screw that holds the blades together loosens up with use and might need some tightening. Doesn't cut as smoothly as the other top rated brands.
Final Word: Get this pair for its longevity and decent performance.
Once you have bought a pair, use them exclusively for embroidery and cross stitch and not for cutting paper or fabric. Store them well for maintaining their sharpness. A good pair would be a trusted sewing companion lasting you a lifetime.
Related Articles
Join Our Mailing List
Sign up to get the latest updates, along with fresh patterns and tutorials, right to your inbox