Seam Ripper
The seam ripper is a tiny sewing device for removing the seams from a piece of fabric. It also enables you to cut threads and open buttonholes. It consists of a handle, shaft and head. The head is usually forked, allowing you to insert it under the stitches for cutting them. The cutting blade is usually placed below the forked part. It is a lifesaver for seamstresses, quilters and embroidery addicts, allowing one to go forward and experiment without worrying about mistakes.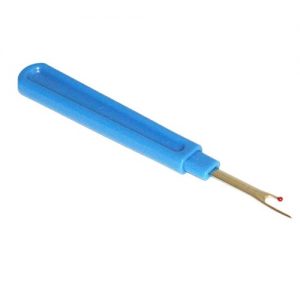 Things to Consider While Buying a Seam Ripper
Type
The main types of seam rippers are the forked head, curved blade and electric kinds.
The forked head seam rippers are the most common having a U-shaped head. One side is a bit longer than the other. The longer side is inserted under the stitch and is used to cut the thread. The shorter side usually has a small red ball at its end for safety.
The curved blade type has the looks of a regular scalpel earning it the name, surgical seam ripper. It is very sharp and can be dangerous if its exposed blade is not handled carefully. Though easy to maneuver and comfortable to grip for sewing and quilting purposes, it is not recommended for beginners.
An electric seam ripper is battery operated and really fast in opening up seams. The blades don't damage the fabric and they usually have a side to side action that catches the stitch and cuts the thread. They trim the thread without even coming near the fabric.
Apart from the above, there are the lighted and retractable seam rippers that have made a mark with their convenience of use.
Safety Features
It is desirable that your seam ripper comes endowed with safety features like a safety cap and safety ball to safeguard the pointed ends of the sewing tool. It is all the more important to have them if you share your sewing space with children.
Size
The dimensions of your tool are important since it dictates your comfort level with it, especially if you are using it for a longer duration. Ensure that the device sits well in your palm and that the length is suitable for holding it in your hand.
Material
The main working parts of the seam ripper are invariably made of metal for lasting sharpness. The handle can be made of plastic, wood, and even metal like brass. The choice of the handle material that you like to work with is entirely up to you. Plastic is the most common due to its light weight and the variety of ergonomic shapes it can take.
Handle Comfort
An ergonomic handle would keep your hand relaxed as you work with the tool. They are also a good choice for people with hand conditions like arthritis and carpal tunnel.
What Is Included In the Package
Some companies offer embroidery scissors, needles, batteries (for electric ones), etc. as accessories to your tool. They come as a bonus aiding your sewing and quilting needs without you having to buy them separately. While some manufacturers offer a single unit of seam ripper in a pack, there are others who provide a set of seam rippers in a single pack at a discounted price.
5 Of the Best Seam Rippers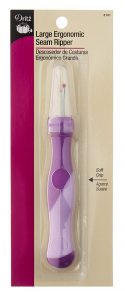 1. Dritz 5101 Seam Ripper
Pros: Though this seam ripper is designed for larger stitches, it works as well with the smaller ones. The ergonomic handle is also a plus. The blade is made for permanent sharpness, regardless of how much you use it. A safety ball on the tip keeps your fabric protected.
Cons: Doesn't fit people with small hands. Not meant for rough handling.
Final Word: If you want a seam ripper that can be used easily without stressing your hand, this one is for you.

2. Clover 482/W Seam Ripper
Pros: Strong and durable metal make. The sharp blade cuts the threads quickly.
Cons: Short handle is not ergonomic making it uncomfortable and difficult to work with for arthritic people and people with large hands. No safety cap.
Final Word: This excellent small tool ensures that your seam ripping is not a tedious and strenuous task. It can get a bunch of seams ripped in minutes, preventing cramps.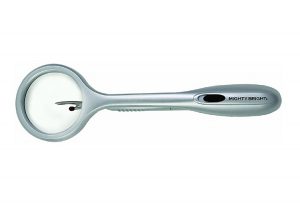 3. Mighty Bright 88512 Lighted Seam Ripper
Pros: Features a bright LED light and a magnifier to show up the stitches better. Compact. Comes with a foldable, sharp metal blade. The ergonomic handle ensures a comfortable grip.
Cons: Few people have complained of the light not working and the protective red ball-tipped point falling off on first opening the package. However, the company has its return and replacement policies in place.
Final Word: Older people and persons with weak eyesight gain immensely from the high magnifying abilities and strong illumination of this seam ripper. Anyone else who wants to sharply focus on the stitch details can also try out this one.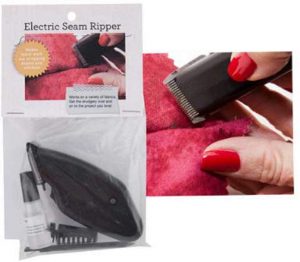 4. Wahl Electric Seam Ripper
Pros: Powerful and compact, this gadget fits the palm of your hand. Can work on various types of materials.
Cons: Lacks class as it looks cheaply made.
Final Word: This one is recommended for its handy and time-saving features.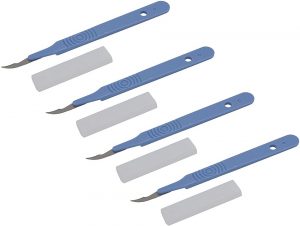 5. Ultima Surgical Seam Rippers
Pros: The pack comes with 4 pieces of seam rippers along with seam cutters. Made of durable surgical steel. The curved design allows the tool to glide through the stitches without being harsh on the fabric.
Cons: The blades are not replaceable. However, they have been claimed to last long.
Final Word: This razor-sharp seam ripper would be your go-to tool if you want to can cut through multiple stitches at once.
Video: How to Use a Seam Ripper
We hope that with the above-mentioned choosing criteria as your guide, you would find it easy to zero in on a seam ripper for yourself. It is a valuable addition to your sewing kit and would turn out to be a faithful companion to all your projects.
Related Articles
Join Our Mailing List
Sign up to get the latest updates, along with fresh patterns and tutorials, right to your inbox