Rotary Cutter
The rotary cutter is a handy tool that is used to cut fabric, leather, foam or paper by a rotating blade that is circular in shape, extremely sharp, comes in different sizes and can be sharpened. It comes with a handle for guiding the blade and applying pressure to cut the layers of fabric. It creates clean, sharp edges saving on time and energy. Seamstresses, crafters and quilters immensely gain from it.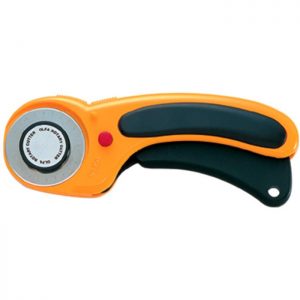 Things to Look Out For While Buying a Rotary Cutter
Size
The blades of rotary cutters come in a variety of sizes, the common ones being 18mm, 28 mm, 45 mm and 60 mm. The larger the size, the more fabric can be cut and the faster it gets. On the other hand, the smaller ones suit small and intricate cuts. Note that each cutter is designed for a specific blade size. So if you want to buy extra blades, check if it is compatible with your tool.
Handle
The handle should be such that it is comfortable to hold but offers a good grip. If you have arthritis or any other problems in your hand or wrist, choose a rotary cutter with an ergonomic handle. Curved, padded and straight handles are the other common varieties.
Blade Material
The rotary cutter blade is usually made from titanium or steel. The price of the titanium blades is on the higher side but the last long. The steel ones are cheaper, perform equally well but are less durable.
Safety Features
It can be in the form of a safety latch that can be retracted manually or automatically. A safety feature in your rotary cutter helps you stay protected, something that is indispensable if you have kids at home.
6 Of the Best Rotary Cutters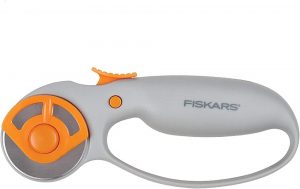 1. Fiskars Classic Comfort Loop Rotary Cutter (45mm), 1, steel and orange
Pros: If you are working with thin fabric, it has the ability to cut 16 layers at once. It is flexible enough for small projects giving clean cuts even with tight patterns. A plastic safety shield ensures peace of mind.
Cons: Though touted as an ambidextrous cutter, left-handers find it difficult to use. Not comfortable for men and those with large hands.
Final Word: This budget-friendly and versatile rotary cutter would be the perfect addition to the sewing kits of persons with average to small hands.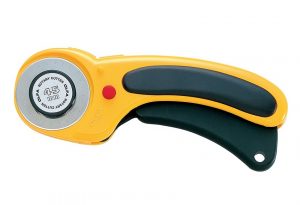 2. Olfa 45mm Deluxe Handle Rotary Cutter
Pros: Ideal for crafters working with volume as this high-quality ambidextrous tool can cut through 6 layers of fabric at once. The dual-action safety lock makes it safe if you share your crafting space with children. The affordable cutter is well-designed with an ergonomic handle that prevents fatigue.
Cons: None as such but you have to be careful about the seller as a fake version seems to be doing the rounds.
Final Word: The multi-layer cutting capacity is something that saves your time and increases your efficiency.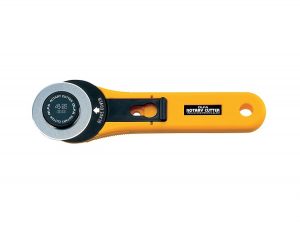 3. OLFA Rotary Cutter RTY-2/G
Pros: The ergonomic handle offers a good grip while preventing hand fatigue. Whether you are left- or right-handed, you would find it easy to work with this lightweight tool making nice and smooth shapes and edges. It has its safety mechanisms in place and scores with its ability to cut thin fabrics. Available in 28mm, 45mm and 60 mm sizes.
Cons: Replacing the blade is difficult. Some materials cannot be cut precisely.
Final Word: The large wheel slices through materials without any drag. There is no chance of any shredding of edges with this pocket-friendly cutter.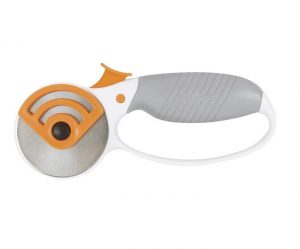 4. Fiskars Crafts 190160-1001 Heavy-Duty Comfort Loop Rotary Cutter (65 mm), 60mm
Pros: The great design is suited for both left and right-handed users. The curved loop handle is a natural fit for your hand and allows you to multitask. It is also soft to hold ensuring comfort and control. A safety lock mechanism prevents accidental injuries.
Cons: The price is on the higher side. The replacement blades are costly too. The claims of its long-lasting sharpness should be taken with a pinch of salt.
Final Word: If you want to cut a variety of thick materials comfortably and easily, this cutter would be your best bet. The 65 mm blade is excellent for long, straight cuts.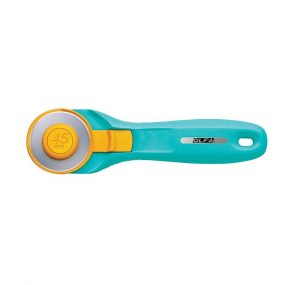 5. OLFA RTY-2/C 45mm Splash Rotary Cutter
Pros: You can easily and quickly change the blades of this smooth and comfortable cutter. It comes equipped with safety mechanisms. The integrated grooves prevent your fingers from slipping. The low price is also a plus.
Cons: The blades become dull with use and some users have complained that they can even pop out.
Final Word: The lightweight and sturdy design, coupled with easy manipulation of blades, would make you want to go for it.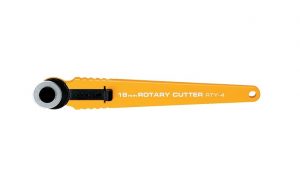 6. OLFA Small Rotary Cutter 18mm
Pros: It excels at cutting small curves, wiggly lines and details of a pattern or applique. It also does well in cutting curved quilt pieces and neatly trims seams. A quick blade change handle increases its convenience. Features a blade cover for safety.
Cons: Handle is too thin for a good grip. Cannot cut more than 1-2 layers of quilting cotton or fleece at a time.
Final Word: Go for it if you have fine details in your templates or want to cut out mini quilt pieces. But the small cutter won't cut multiple layers or make big cuts.
How to Use a Rotary Cutter
A rotary cutter is a valuable addition to your craft and quilting arsenal and makes life a whole lot easier for you. It is important to buy a self-healing cutting mat and a transparent ruler as accessories to your cutter. They prolong the life of your tool and make your cuts precise.
Related Articles
Join Our Mailing List
Sign up to get the latest updates, along with fresh patterns and tutorials, right to your inbox