Moss Stitch Knitting
If you are fond of knitting and purling, you are sure to love Moss Stitch – a simple but gorgeous knitting pattern using only knits and purls. You can make anything you want with this pattern and your handiwork will surely be admired by all.
What is Moss Stitch?
It is one of the most basic basket-weave pattern forms of stitches. Alternative knits and purls are weaved in every row. As a result, every purl is surrounded on its left, right, top and bottom sides by four knits and each knit is similarly surrounded by four purls.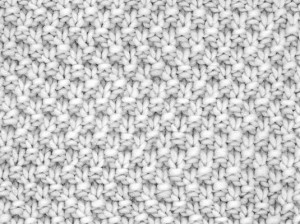 Knitting Moss Stitch
This pattern can be created with both even and uneven number of stitches. The most common method used for it is knitting alternate knits and purls. You can also add some variation to your mufflers and hats by using two separate colored yarns for knitting the pattern. Here are some instructions for knitting Moss Stitch:
Row one: *K1 (knit), p1 (purl) repeat from * to the end of the row
Row two: *P1 (purl), k1 (knit) repeat from * to the end of the row
Repeat knitting the rows in the above manner for the pattern. Knitting the alternate stitches charts out as:
Row one: Kpkpkpkpkp
Row two: Pkpkpkpkpk
Row three: Kpkpkpkpkp
Row four: Pkpkpkpkpk
Where k denotes knits and p denotes purls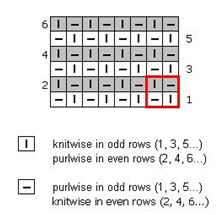 Knitting Double Moss Stitch
Rows one and two: *K1 (knit), p1 (purl) repeat from * to the end of both the rows
Rows three and four: *P1 (purl), k1 (knit) repeat from * to the end of the rows
Repeat these rows for creating the pattern. Knitting the stitches for this pattern can be charted out as:
Row one: Kpkpkpkpkp
Row two: Kpkpkpkpkp
Row three: Pkpkpkpkpk
Row four: Pkpkpkpkpk
Knitting American Moss Stitch
The American Moss Stitch is generally knitted with an uneven number of stitches.
Rows one and four: K1 (knit), p1 (purl) repeat from * to the end of the rows
Rows two and three: P1 (purl), k1 (knit) repeat from * to the end of the rows
Repeat the rows one to four for constructing the pattern. A more elongated stitch can be created by this form. The alternate stitches can be represented as:
Row one: Kpkpkpkpkpk
Row two: Pkpkpkpkpkp
Row three: Pkpkpkpkpkp
Row four: Kpkpkpkpkpk
Moss Stitch Crotchet
This stitching pattern is very well suited for crotchet work as well. Both single and double moss stitch can be knitted using a pair of crotchet hooks.
Single Moss Stitch Crochet
Here are the steps to follow for crocheting this stitch:
First, a foundation chain has to be made using an uneven number of stitches.
Knit one single crochet (SC) when you reach the 3rd chain. Skip 1 chain and in the very next chain, knit another SC. Continue to knit in this manner till the last chain.
At this stage, you can change the color of the yard if desired.
Now you have to knit an SC in the space of the chain 1 in the previous row. Chain 1, pass over the very next stitch and knit 1 single crochet in the space of the chain 1 in the previous row. Carry on with the process till the row ends.
End the row with 1 SC in the previous row's chain 2. Turn, chain 2.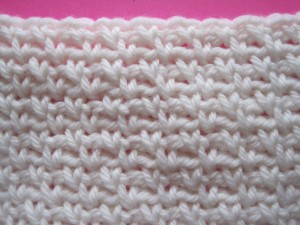 Double Moss Stitch Crochet
The foundation chain should be made with an uneven number of stitches. Turn, SC (single crochet) in 3rd chain. Skip one chain after the chain 1 and knit an SC in the following chain. The next step for creating this Double Moss Stitch is similar to the 4th step of the previous pattern. Repeat the same method used in the first row in the following row.
Moss Stitch in the Round
It is frequently used as the border for some decorative materials and covers. You have to follow the same principles required for the pattern when knitting it in the round. Which means alternate knits and purls are knitted for generating the pattern.
Moss Stitch Vs Seed Stitch
The names Moss Stitch and Seed Stitch basically refer to the same knitting pattern. Moss Stitch is also known as British and Irish Moss Stitch. Some people believe these names refer to two different patterns in America, while others believe they are actually the same, with the variation of double row and single row. However, there is a type of Moss Stitch which is known as American Moss Stitch with a slightly different knitting process.
What You Can Make Using Moss Stitch
Moss stitch can be the ideal choice for making a wide variety of winter wears such as hats, scarves baby shoes and mufflers as well as blankets.
Moss Stitch Scarf: Scarves knitted with this stitch look gorgeous and the dense fabric provides proper protection from cold. Moss Stitch is fast increasing in popularity as a scarf pattern.
Moss Stitch Hat Pattern: Hats knitted using the Seed Stitch is often referred to as "Seed Stitch Hat", especially in the US. These hats can be used both by males and females of various ages.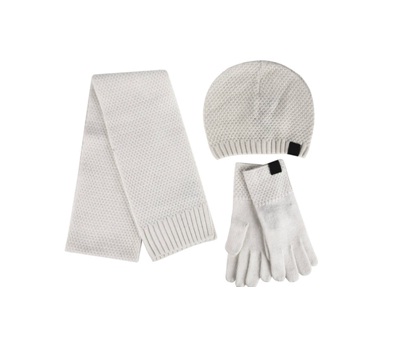 Moss Stitch Blanket: It is popularly used for making normal blankets and baby blankets. Moss Stitch is suitable for baby blankets as it produces soft and thick fabric.
Moss Stitch Afghan: Generally lap afghans are often made by using the pattern. It takes plenty of time to finish knitting a Moss Stitch afghan. But once it is done, you will see that the end product is worth the hard work.
What Makes Moss Stitch so Special?
It is one of the simplest knitting patterns in existence and is very easy to learn. But these facts do not prevent the Moss Stitch from giving the fabric an elegant finishing. Here are a few reasons why you should try this pattern:
You only have to know how to knit and purl to master this stitch.
A fabric made with this pattern does not have any wrong side. This means they are all reversible.
Moss Stitch is very easily adaptable to various circular knitting patterns.
It creates dense and durable fabrics.
All garments and decorative materials knitted with this pattern are sure to look very elegant and beautiful.
Now you can see why Moss Stitch is counted among the most popular knitting patterns all around the world. So, next time you find it difficult to decide which stitch to use for knitting a scarf, you can try this one and you will not be disappointed with the end result.
Related Articles
Join Our Mailing List
Sign up to get the latest updates, along with fresh patterns and tutorials, right to your inbox