Knitting Needles
Knitting needles help you in making stitches, hold your work together and carry the weight of your knitting project as you are working on it. They usually come in pairs and can be your best companion in creating beautiful knitted pieces. Depending on the shapes, sizes and material, you can have various types of knitting needles as discussed below.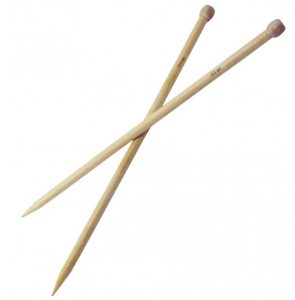 Types of Knitting Needles to Consider While Choosing a Pair for Yourself
Depending On the Shape
1. Single Pointed or Straight Needles
This is the most common kind of knitting needles. One of its ends is pointed, while the other end is shaped like a knob. The pointed end helps in making stitches while the knob prevents them from slipping off. The straight needle is usually 10-16 inches in length but can produce knitwear of much wider dimensions due to the high compressibility of the stitches. Suitable for beginner knitters, it works best for smaller pieces of knitted fabric that need to be worked flat like scarves, washcloths, afghan squares, etc.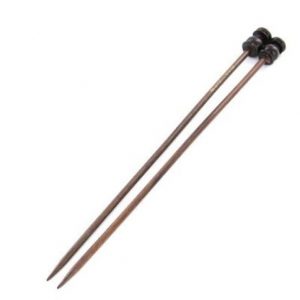 Our Recommendations for Straight Knitting Needles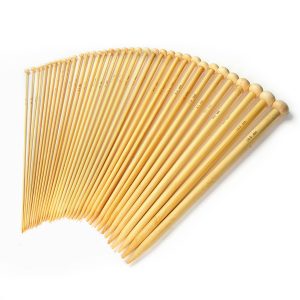 1. LIHAO 36 PCS Bamboo Knitting Needles Set
The bamboo needles have a smooth finish free of rough edges. A variety of size options are available. At 9", it boasts of a good length.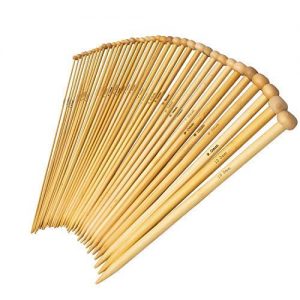 2. BetyBedy 36PCS Bamboo Knitting Needles Set
This set is smooth and comfortable to work with. It is mildew proof, carbonized and lightweight yet sturdy. The natural make frees it of repulsive chemical smells.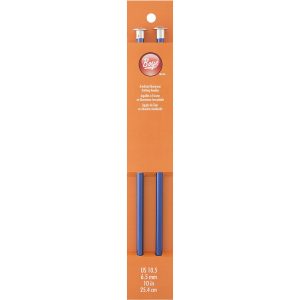 3. Boye 10-Inch Aluminum Single Point Knitting Needles, Size 10-1/2
The concave points of this pair prevent stitches from getting dropped. It suits fairly thick wool or yarn. Not being too long, it is sturdy considering its size.
2. Double Pointed Needles
Double pointed needles are tapered at both ends allowing you to knit with both of them. They are commonly used for knitting in the round. You can mostly make small tubular knitwear like socks, sleeves, gloves, mittens, collars, and toys with them. Having a length of around 13-20 cm, they are shorter than the other two types of knitting needles. They come in handy when you are knitting with just a few stitches or working with decreases. They are mostly available in sets of 4-6.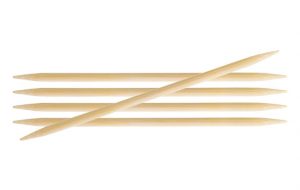 Our Recommendations for Double Pointed Knitting Needles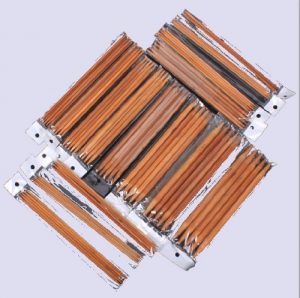 1. Ostart 5 Sets of 15 Sizes 8" (20cm) Double Pointed Carbonized Bamboo Knitting Kits Needles Set (2.0mm – 10.0mm)
This set caters to 15 different sizes of needles having 5 needles of each size. The polished wood is durable and sturdy.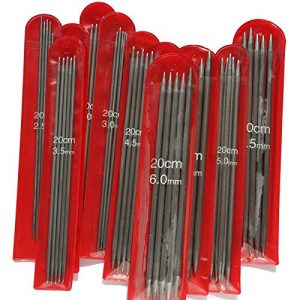 2. Z-COLOR 11 Sizes 55Pcs 7.9″ Double Pointed Stainless Knitting Needles Set
The tips of these needles are perfectly tapered for easing the knitting process. The different sizes come in separate packaging, making storage easy.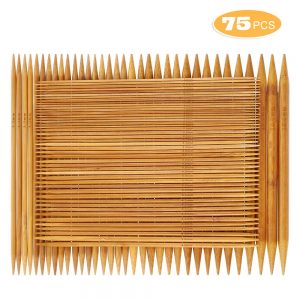 3. RELIAN Double Pointed Knitting Needles – 75 Pcs Bamboo Knitting Needles Set
This set is mildew proof and strong. It boasts of clean tips devoid of splitting. You would find that the yarn slides well on it owing to its smooth finish.
3. Circular Needles
Circular needles are a pair of straight needles, 4-5 inches long, which are connected by a flexible cord on one side. Their overall length ranges from 9 inches – 60 inches. They can be used to knit flat or in the round. Allowing easy knitting, they are a favorite among many knitting enthusiasts. Slip stitch and double knitting suit them best. Apt knitting projects are those knit in the round like sweaters, cowls, hats and socks (using the magic loop method).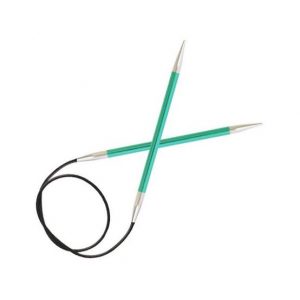 Our Recommendations for Circular Knitting Needles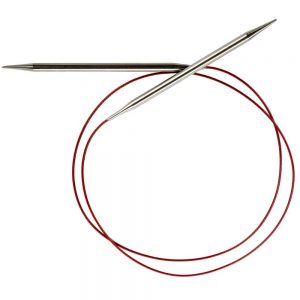 1. ChiaoGoo Red Lace Circular 40 inch (102cm) Stainless Steel Knitting Needle Size US 2 (2.75mm)
The red flexible cable allows your yarn to slide smoothly on it from end to end. The perfectly tapered tips are nice and pointy.

2. CLOVER 3016/16-07 Takumi Bamboo Circular 16-Inch Knitting Needles, Size 7
The cord doesn't break even if you use pressure while knitting. The point is sharp, allowing you to knit tight. The material keeps a consistent gauge even with slippery yarn.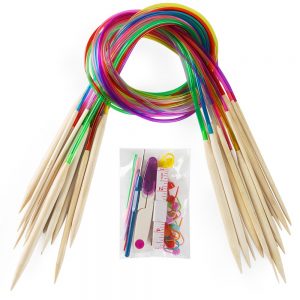 3. 18 Pairs Bamboo Knitting Needles Set, Vancens Circular Wooden Knitting Needles with Colorful Plastic Tube
This smooth and durable set needs less tension while you knit. A handy thumb rest gives relief to your fingers. The small knitting tools accompanying the set come as a plus.
Depending on the Knitting Needle Sizes
The size of your needles is an essential aspect of your knitting project. It depends on the yarn weight and the knitwear that you intend to make. Check the pattern details to find the appropriate needle size. You can refer to the below chart for knitting needle size conversions.
Metric Size

UK Size

US Size

Uses

2.0 mm
14
0
The smallest needle sizes are used for intricate, detailed work like lace
2.25 mm
13
1
2.75 mm
12
2
Small needles suited for knitting socks and shawls
3.0 mm
11
–
3.25 mm
10
3
3.5 mm
–
4
Thin needles for making baby blankets, light sweaters and socks
3.75 mm
9
5
4.0 mm
8
6
Most of the things that you can wear, ranging from sweaters to scarves and gloves
4.5 mm
7
7
5.0 mm
6
8
Most popular needles that are suitable for beginners and used for a variety of projects
5.5 mm
5
9
6.0 mm
4
10
Knitting chunky sweaters, pullovers quickly
6.5 mm
3
10½
7.0 mm
2
–
7.5 mm
1
–
8.0 mm
0
11
9.0 mm
00
13
For super bulky garments and accessories
10.0 mm
000
15
12.0 mm
–
17
16.0 mm
–
19
Making thickly knit jumbo-sized blankets, afghans, etc.
19.0 mm
–
35
25.0 mm
–
50
Depending on the Needle Material
The choice of material for your knitting needles largely depends on your personal preferences. Some yarns feel better to knit with certain types of needles
Wooden knitting needles – Though they are a bit on the heavier side, beginners find it easy to work with them as the stitches hold on to the material and don't slip off easily. They are mainly made of bamboo.
Plastic knitting needles – These are lighter and more flexible than the metal and bamboo ones. Though they are good for any type of yarn, they work exceptionally well with chunky yarns.
Steel and aluminum knitting needles – Expert knitters would be at ease with these metal needles since they are slippery and make knitting quick.
Choosing the right needle can help you create enchanting knitwear that would gift you fond memories of your loved ones. Many a winter evening can be spent creatively with their soothing touch between your fingers. Those moments would be cherished long after they are gone.
Related Articles
Join Our Mailing List
Sign up to get the latest updates, along with fresh patterns and tutorials, right to your inbox