Those of you who shy away from sewing will find solace in this no-sew project that makes your bedroom look exquisite in minimum time and, of course, at a pocket-friendly price, unless you are going for expensive fabric. Just follow the simple steps below and relax your head in homemade comfort.
How to Make a No-Sew Pillow Cover
Materials
A pillow
Fabric in pattern and color of your choice
Fabric glue
Measuring tape
Scissors
Rubber bands
DIY Instructions
Step 1: Measure and cut the fabric 3 times the width and 2 times the length (height) of the pillow.
Step 2: Place the pillow in the middle of the fabric. Fold it over in half to cover the pillow from the sides.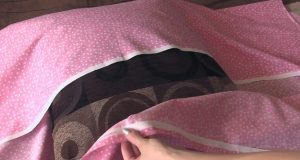 Step 3: Fold the remaining ends into triangles on both sides.
Step 4: Bring the triangles to the center and tie near their tips with rubber bands.
Step 5: Join the ends by applying fabric glue.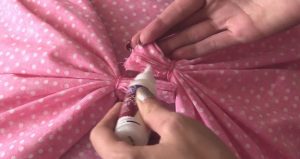 Step 6: Cut out an 8" X 5" piece from the fabric.
Step 7: Wrap it around the junction and seal it off with fabric glue. The center of the bow is made.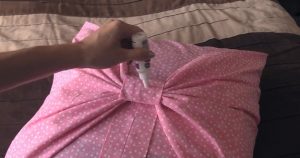 Step 8: Allow sufficient drying time. You can put something heavy on top to aid the gluing.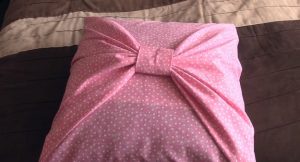 Video Tutorial for Making Bow Pillow Covers without Sewing
More DIY No-Sew Pillow Cover Ideas
Just a simple hand tied knot looks beautiful at the center of your homemade pillow cover. You can try the technique with round cushions, bolsters as well as lumbar pillows.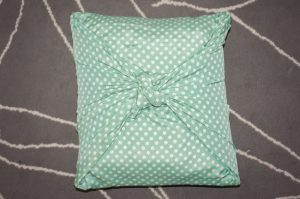 No-Sew Bow Pillow Cover by Tying a Knot
If you are not much of a fan of bow pillow cases, you can design them traditionally by applying hot glue to the appropriate places. It works well for throw pillows.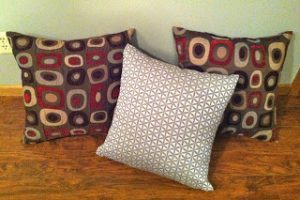 No-Sew Decorative Throw Pillow Covers
This pillow cover looks charming with the fringes. If you do not want to cut up an old T-shirt for this, you may use fleece fabric. If you can manage large sizes of fabric, try this on body pillows.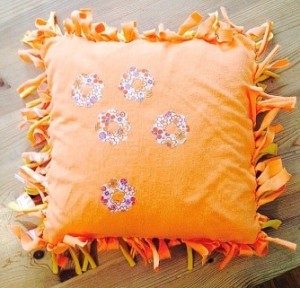 No-Sew T- Shirt Pillow Cover with Fringe
Just a few cloth napkins create this adorable no-sew project. The pillows suit your couch, sofa, bed and also look cute when placed on a chair outdoors.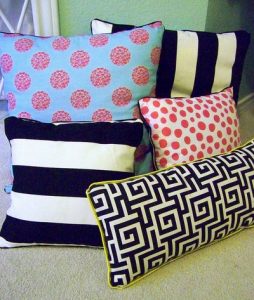 Easy No-Sew Envelope Pillow Covers
You can insert and remove your pillow easily due to the presence of Velcro at the bottom seam of this no-sew pillowcase.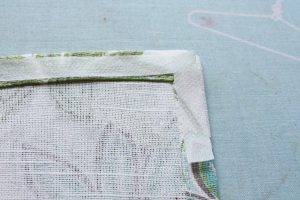 No-Sew Napkin Pillow Covers with Velcro
Breathe a new life to your outdated toss pillows by covering them with sweaters that no longer fit you. No sewing is required.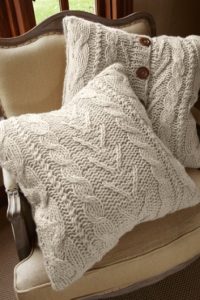 Simple No-Sew Pillow Covers with Sweaters
Putting hem tape along the edges of the pillow case gives it a neat finish. If you are comfortable with the sewing machine, you can also give a contrasting piping along the borders for a classy look. Step out of the conventional and use burlap and drop cloth as your material. Bright red and green Christmas motifs on the white covers lend a decorative look to your home during the holiday season.
References:
http://organizeyourstuffnow.com/easy-no-sew-pillow-cover
http://diyready.com/diy-no-sew-bow-pillow-covers-two-ways/
http://www.hgtv.com/design/make-and-celebrate/handmade/how-to-make-a-no-sew-pillow-cover
http://www.sandandsisal.com/2014/06/no-sew-napkin-pillow-covers.html
contact form