Lazy Daisy Stitch
The lazy daisy stitch or detached chain stitch is the name given to an embroidery technique used to make a floral pattern. A very easy stitch, it is not only used to make flower motifs and leaves but can be used to stitch complex patterns when done with double and triple loops. Work this cute stitch to add a personal touch to hand towels, pillowcases, cushions, quilts, dresser scarves, tea-cozies, potholders and children's clothes.
How to do a Lazy Daisy: Step by Step Tutorial
As for any embroidery work, first prepare your fabric by setting it tightly in a stitching frame, thread your needle and get ready to work:
Step 1: Bring the needle up from the back through the fabric.
Step 2: Take the needle down through the same point, but don't bring it down completely. Leave a roomy loop behind to make the petal of the flower. Look at photo A.
Step 3: After making a loop of desirable size, push up the needle from the top of the petal, on the inner edge. Pull out the thread gently, but tightly.
Step 4: Poke down your needlepoint on the outside of the top edge of the petal, keeping it close to the perforation point of step 3.
Step 5: Now bring your needle up through the starting point of the petal and repeat steps 1 to 4 for making another petal of the daisy.
It is easier if you make a small circle with a pencil at the beginning, to indicate the centre of the flower and make all your petals around it. You can then fill up the centre with a French knot.
Lazy Daisy Stitch Video Tutorial
Lazy Daisy Pattern Ideas
Ready to play with colors? Here are a few ideas and patterns to get you started. This kaleidoscopic pattern is hand embroidered with the lazy daisy. Note the use of the different shades.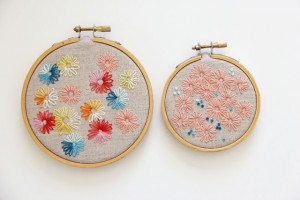 Throw in some lazy daisy in your knitted fabric to give it a chic look.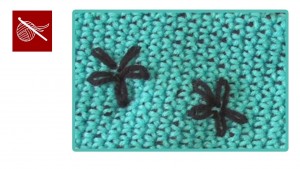 Are you passionate about quilting? A pretty lazy daisy quilt pattern for you.
Bored of blossoms? Think out of the box with this fine variation of the lazy daisy stitch in peacock feathers.
A wonderful design to show off your lazy daisy skills.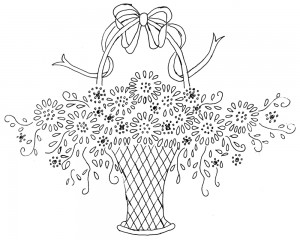 Lazy Daisy in Crochet
For the crochet fanatics, given below is a pattern for a cute lazy daisy flower in crochet.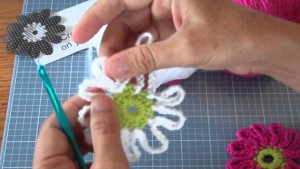 Here is a great idea for crocheting your way into this fun lazy daisy Afghan.
Hope you found the given instructions for the lazy daisy embroidery stitch helpful. Use of bright colors to complement the base fabric is surely going to turn some heads. Stitch up a bloomy garden.
Related Articles
Join Our Mailing List
Sign up to get the latest updates, along with fresh patterns and tutorials, right to your inbox