Blanket Stitch
The blanket stitch was primarily used to give a secure finishing to the edges of a blanket lest the fabric came out and was unraveled. However, it has now earned popularity as a beautiful needlepoint stitch.
You can use the lustrous silk buttonhole twist as your sewing thread. In this tutorial, I am going to walk you through the instructions of doing the stitch.
How to do a Blanket Stitch: Step by Step Instructions
Step 1: Draw two parallel lines with a pencil on your fabric and have the material secured to a frame.
Step 2: Bring the needle up through A.
Step 3: Put the needle down through B and take it up from C while keeping the thread below the needle, at all times.
Step 4: Pull out the thread. You will find a loop to form behind.
Step 5: As you pull the thread up fully, the loop gradually settles down on the cloth.
You are done with your first blanket stitch.
Step 6: Start the next stitch a little farther away on the right. Repeat step 3.
Step 7: Pull out the thread snugly to finish off the second blanket stitch.
After the first few stitches, your embroidery will look something like this.
Blanket Stitch Video
Blanket Stitch Variations
Blanket Stitch Uses
The stitch can give a neat finishing to your appliqué. It's sassy and smart to border your creation with this stitch.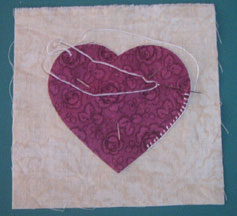 More uses include giving a decorative border to baby fleece blankets, to the corners and around the curves of your favorite dress, napkins, quilts and rugs. Edges of hand-made Christmas stockings, cushions, and elbow patches in your shirt look dainty when worked with this stitch.
This stitch offers a good option for sewing buttonholes. In this regard, it is worth mentioning that the buttonhole stitch is mostly used for this purpose. Though, roughly the both the stitches look the same, they are not stitched similarly.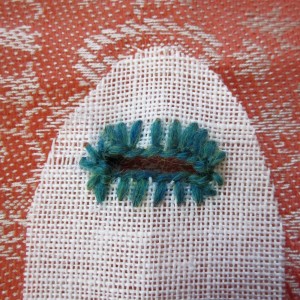 Blanket Stitch Ideas
Sample these pretty embroideries done using the blanket stitch.
Now that you know the stitch and its variations, you must be dying to get hold of your needle and thread to stitch up a dainty border on your favorite pieces. This is also a powerful weapon for embroidery lovers as well. Make your move with any of the ideas above and keep us posted on how it turns up.
Related Articles
Join Our Mailing List
Sign up to get the latest updates, along with fresh patterns and tutorials, right to your inbox