Spool Knitting (French Knitting)
This fun knitting idea makes you go back to your school days. You will be amazed how a simple tool can knit charming hats, rugs, and blankets. The technique is also known as corking, French or mushroom knitting.
How to Spool Knit
For this, you will need a knitting spool, spool knitter or knitting Nancy that is a small, mostly cylindrical knitting loom.
If you don't want to buy, make one yourself by cutting a 3-inch wooden piece, drilling a hole through its center and hammering in any number of nails equally spaced at the top. A toilet paper roll glued on all sides with popsicle sticks also serves the purpose.
Supplies
Spool knitter
Yarn
Pointed stick, needle or crochet hook
Instructions for Using a Knitting Spool
Pass the yarn down through the middle of the spool.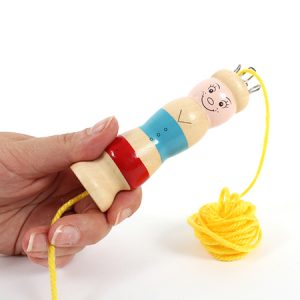 Starting from any one, loop the yarn round each nail or peg in an anticlockwise direction.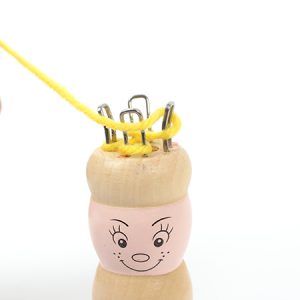 After you come back to the first peg from where you started, wrap the yarn counterclockwise around the outside edge of all the nails.
Using the pointed stick or needle, lift the loop around each nail, up and over the yarn wound on their outsides.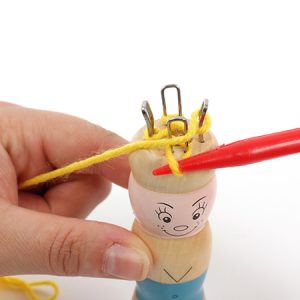 Continue working thus in a counterclockwise direction until you have knitted the yarn till the desired length.
Cast off by cutting the yarn and threading through each loop starting from the last stitch you made.
Pull it tight and fasten off.
French Knitting Video Tutorial
Spool Knitting Patterns and Ideas
Here is a great project for beginners. Coiled spool knitting is used to make this easy coaster. You will get other interesting free patterns including animal patterns on clicking the link below the picture. If you want, you can stuff the animals for making adorable toys.
Beading wire can be spool knit into beautiful bracelets, necklaces, and rings.
Beads can be added to the spool knit in a variety of ways. Use the technique to create pretty rubber band jewelry for kids.
You may ditch the conventional yarn and spool knit with paracord to make a useful neck lanyard or boot cuffs in bulky design. A method for bringing in a variation of two colors or changing colors has been employed in the below step by step for making scarves.
You can involve kids to do this easy project in the classroom itself. Colorful buttons have been stitched to the centers of the flowers for a neat finish.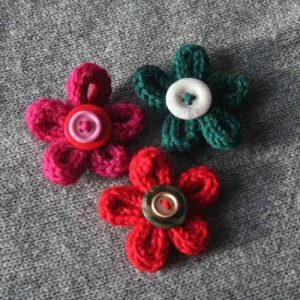 Spool knit a flat web this Christmas that could go into the making of homemade bags, leg warmers, and fingerless gloves. Take your pick from other fun craft ideas such as sweaters, socks, and roses. Elaborate headbands and dolls can be worked best with cord.
Related Articles
Join Our Mailing List
Sign up to get the latest updates, along with fresh patterns and tutorials, right to your inbox