Ribbon Yarn
Ribbon yarn is one of the latest varieties of yarns that have taken the yarn market by storm. You can guess how this yarn looks just by reading its name. This article discusses the definition of this yarn and also gives basic instructions about how to work with Ribbon Yarn.
Ribbon Yarn Definition
It is a type of yarn that looks like craft ribbon and is used both in knitting and crocheting. Cotton, nylon and rayon are some of the most common materials used for making this yarn. It is quite east to work with the soft and smooth ribbon when you make sure to use the proper tools and methods. Many yarn companies manufacture this type of yarn and it is available in numerous beautiful colors. Various materials including silk, cotton and nylon are used for producing this yarn. It is generally sold in small quantities, such as approximately 100 yards/ ball.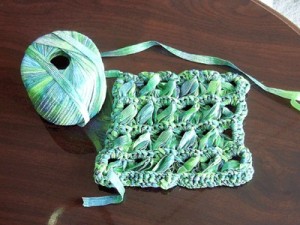 Ribbon Yarn Uses
This yarn is most commonly used for making scarves as the ribbon gives the product a ruffled and fluffy look. Accessories like necklaces, bracelets and earrings can also be made using the yarn. You can also make bags, purses, hats, belts, headbands and various hair accessories by knitting or crocheting with this stylish yarn.
Ribbon yarn is sometimes used for making different knitted or crocheted articles, such as sweaters, shawls, skirts, tank tops and poncho. It is often combined with other more bulky yarns to make durable and warm articles of clothing.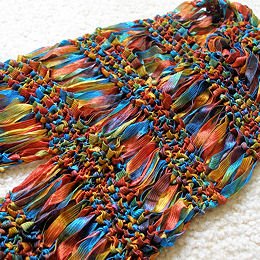 Knitting with Ribbon Yarn
If you are a creative knitter or crocheter and like to experiment with novelty yarns, ribbon yarn is an ideal option for you to try new things. However, working with this yarn is different than working with normal ply yarns. You need to get an idea about how the yarn will look when you knit or crochet it and what will be the size of the stitches. It is advisable to create a swatch before you begin working on your project for getting a better idea about how the yarn will behave once you knit it. Following are the steps you need to follow before using your ribbon yarn for your project:
Step 1: Cast on around 20 stitches if you are knitting with the yarn. Complete 25 to 30 rows to create a swatch using the pattern you are planning to use in your project. If you are planning to crochet the yarn, then make your swatch by crocheting around 30 rows for creating a swatch.
Step 2: Next, you need to wet the swatch to block it and then roll it in a towel for getting rid of the excess moisture. Allow the swatch to dry. Blocking the swatch allows you to get the accurate stitch count so that you can calculate the number of stitches required for your project.
Step 3: Use a ruler for counting the number of stitches knitted or crocheted in an inch. You need to count the number of vertically stitched rows as well. This helps you to determine your gauge.
Step 4: You may need to add a heavier yarn if you are planning to make warm clothes or any article that needs to keep a proper structure and shape. Make sure to use this heavier yarn in your swatch to get proper measurements. Hold the loose ends of the two yarns and treat them as a single yarn while crocheting or knitting.
Tips for Working with Ribbon Yarn
While it is very interesting to work with the delicate looking ribbon yarn, there are a few things you need to keep in mind to get the best out of the product. You may face certain problems while working with the yarn unless you make sure to keep the following points in mind:
1. Needle Size: Choosing the right size of needle is one of the most important factors when working with this type of yarn. Using bigger needles create large stitches that allow the ribbon to lay out properly, while using smaller size needles completely ruins the ribbon effect. Your project may look like it is worked with ordinary yarn if you do not use the right size needles.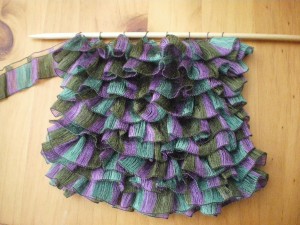 2. Prevent Unwanted Twisting of Yarn: This yarn tends to twist as you knit with it which may ruin the ribbon effect. So, you need to stay alert and prevent it from twisting while working with this variety of yarn. Make sure to flatten the ribbon every time before wrapping it around your needle for maximizing the ribbon effect. As a result, you will frequently need to untwist the yarn. One way of doing this is holding up your knitting project by the skein and allowing it to untwist by itself. Make sure to slide the stitches down your needle so that they do not fall off the needle end.
3. Drop Stitch: This is a trick you can use to display the ribbon. For this, you need to work a certain number of rows normally and then work one row where you need to wrap your yarn once or more than once around the needles between each stitch. Then, let the additional yarn wraps drop when working the return row. This can be done in every row. However, working at least 3 plain rows between the pattern rows help to make your project more stable. This process is often regarded as one of the fastest ways of working with ribbon yarn.
Ribbon Yarn Patterns
There are several attractive patterns that you can apply in your project using this yarn. Ribbon yarn is most commonly used for making scarves and there are many scarf patterns available both for knitters and crocheters. Ribbon yarn patterns for crocheting various accessories like bracelets, necklaces and earrings are also very popular. There are many knitting instruction books that offer different patterns for making gorgeous articles with the yarn.
This yarn allows you to make stylish and trendy garments and accessories very easily at home. All you need is a few skeins of ribbon yarn, the suitable needles or crochet hook and your creativity. Go ahead and create new items using new ideas and the end product is sure to stun those around you.
Related Articles
Join Our Mailing List
Sign up to get the latest updates, along with fresh patterns and tutorials, right to your inbox