Potato Chip Scarf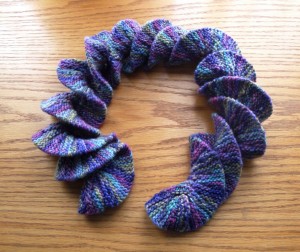 The unique curly design and complex pattern of the potato chip scarf makes it look quite intimidating when it comes to making one yourself. But, the best thing about this beautiful scarf is how easy it is to knit or crochet one at home. Here are the step-by-step instructions both for knitting and crocheting the cascading potato chip scarf.
Knitting a potato chip scarf
You need to have a basic idea of how to work short rows in knitting to understand this pattern. Short row knitting is working a part of the total number of stitches originally cast on and then turning to work the same stitches again in the next row. This scarf is a quick and easy way to learn short row knitting as you will be working with a small number of stitches, making it easier to understand the pattern.
Worsted weight yarn is preferable to bring out the ruffled pattern; but, you can use any other type of yarn you prefer. Pick a needle according to the yarn you are using. Once you have all the supplies, it is time to start working.
Knitting directions
Cast on 20 stitches
Row 1: Knit all 20 stitches
Row 2: Knit the first 8 stitches and turn
Row 3: Knit the same 8 stitches again and turn
Row 4: Now, knit 6 stitches and turn
Row 5: Knit the same 6 stitches again and turn
Row 6: Next, knit 4 stitches and turn
Row 7: Knit these 4 stitches again and turn
Row 8: Knit all the way across all 20 stitches so you can work on the other side of your scarf
Then repeat rows 2 to 7, working each set of stitches twice. The work should look like a small bow at this stage.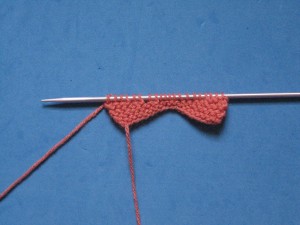 Continue repeating the rows 1 to 7 until your scarf reaches the desired length, when you end the work by binding off in the usual manner. Make sure to work across all the stitches every eighth row.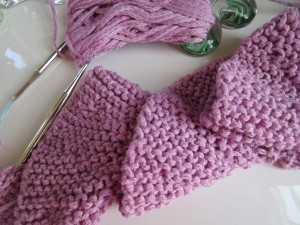 This instruction is for working with 20 stitches, but you can increase the number of stitches cast on if you want to make your scarf wider. Knitting the soft and fluffy potato chip scarf on a machine is another option, especially for proficient machine knitters.
How to crochet a potato chip scarf
The crochet pattern is almost as simple as knitting the scarf and just as much fun. It is preferable to use regular yarn to work the pattern before you can experiment with a novelty yarn.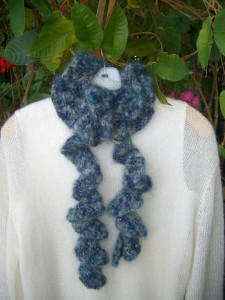 Crochet instructions
Begin by making an even chain consisting 143 stitches
Crochet a single stitch in each chain, making one chain of 2 stitches. Turn the piece.
Make one hdc (half double crochet) in your first row's second stitch. Next, 2 hdc in the following stitch and then another hdc in the stitch next down the row. Work another hdc in the last stitch followed by 2 chains and turn.
Begin with 2 hdc in the first hdc. Make another hdc in the next stitch and then two more hdc in the following stitch for the entire length of your scarf. Cast off when it is as long as you wish it to be.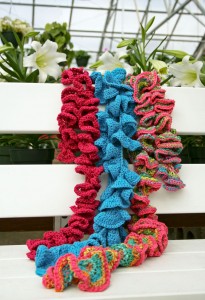 You can experiment with colors, patterns and different types of yarn to produce attractive variations of the corkscrew scarf. Trying some lacy pattern or edging it with a pretty crochet border or an eyelash yarn will further add to the charm of this cute winter accessory.
Related Articles
Join Our Mailing List
Sign up to get the latest updates, along with fresh patterns and tutorials, right to your inbox