Boucle
Boucle is a variety of yarn which has been very popular for producing knitted garments and accessories for quite a long time. This article discusses its uses as well as the method of knitting with this yarn.
Boucle Definition
It is a type of novelty yarn which is characterized by its loopy appearance. The name "Boucle" is originally derived from "boucler", the French word meaning "to curl". The curls or loops of the yarn can be of similar size and can range from large curls to very small circlets. At least 2 strands of yarn are combined for creating Boucle. The tension of one strand is kept much looser compared to that of the other strand when the former is plied around the latter. The loose strand forms the loops while the other, tighter strand works as an anchor. It can also be made using higher number of plies to give the yarn a more chunky appearance.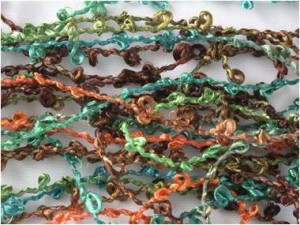 Sometimes, different colored plies are combined together for producing a colorful yarn. This allows you to make a multicolored scarves or jackets using just a single yarn.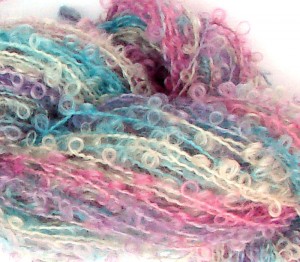 The name Boucle may also refer to fabric made using this yarn. This type of fabric keeps the looped appearance which distinguishes it from other types of woolen fabrics.
Boucle Uses
This yarn is popularly used for making various articles of clothing such as overcoats, jackets, sweaters, cardigans, jumpers, blazers as well as skirts, shorts, tops and woolen dresses. Scarves, gloves, hats and bags made using this yarn are also very popular all over the world. It is often used for making woven articles like blankets, Afghans, ponchos, throws as well as carpets. The boucle yarn can even be used for upholstery.
Knitting with Boucle Yarn
This wavy and beautiful yarn is ideal for making sweaters and shawls. However, its looped appearance may be unsuitable for certain knitting projects. It is important to make sure that the yarn is suitable for your knitting project before you start working on it. Here are some points and guideline that will help you to determine how to use it and which knitting patterns are ideal for it.
One way to determine whether a specific pattern is suitable for your yarn is to knit a scrap with this yarn, using the pattern you want to work in your project. You can also look for patterns that are specially designed for Boucle. These patterns help to highlight the natural loops and curls of the yarn, producing a beautiful dense fabric.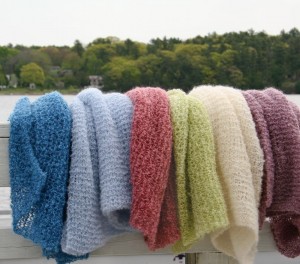 It is generally recommended to use simple stitching patterns instead of the complex ones when knitting with this yarn. Simple designs help to show off the natural beauty of the looped yarn by allowing it to be the main feature of your design. Stitching patterns like garter stitch, stockinette stitch and various other loose-stitch patterns are suitable for knitting with Boucle yarn.
You should also make sure that you are comfortable with working the stitch you want to use in your next project using the yarn and are being able to maintain even tension with this type of fiber. You can knit a rough swatch for practice.
Choosing the right size of needle is also very important. It is advisable to knit with larger sizes of needles as these help you to make larger stitches that are more visible and easier to count. Larger needle tips also make it easier to work with the looped strands of this yarn.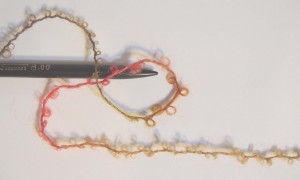 While working with Boucle yarn, make sure to knit loosely so that the yarn can fall into place naturally with every stitch. If you knit too tightly, it will mask the texture of the yarn, which will ruin your project. Improper pattern choices or tight stitches can ruin your project by making it look accidental instead of intentional, because of the irregular texture of the yarn.
It is advisable to use stitch markers so that you do not lose your place in the pattern you are working. The loops and curls often make it difficult or impossible to count the stitches. Using stitch markers help you to stay away from this problem.
These are some of the most important points to keep in mind while choosing a pattern for your project and when working with Boucle yarn.
Boucle Yarn Crochet
This novelty yarn is ideal for crocheting a wide range of articles and accessories because of its looped texture. However, you need to keep a few things in mind when crocheting with the yarn:
Use large crochet hooks as they make larger stitches.
Make sure to crochet loosely for an evenly crocheted fabric.
Choose patterns that will look good when worked with this yarn. The patterns ideal for knitting, such as stockinette and garter stitches, are also suitable for crocheting.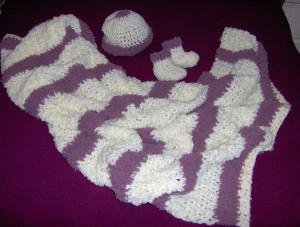 You can weave a throw or an Afghan using simple crochet patterns and the unique texture of the yarn makes sure that the final product is very comfortable and attractive. This yarn is ideal for making crocheted hats, scarves, and sweaters. Crochet flowers made with this yarn also look gorgeous due to the looped texture and you can use them for various purposes including adorning other crocheted articles.
Caring for Boucle Articles
You need to take proper care of your Boucle products to make sure that they last for a long time. Most of these products need to be dry cleaned or hand washed for preventing any damage due to washing. It is generally not recommended to machine wash these articles. Another point to remember is that you should always lay the articles flat for drying for preventing any shrinkage.
Boucle is one of the most popular novelty yarns that you should consider for your next knitting or crochet project. It is available at local knitting supply stores where you can choose from different varieties of Boucle yarn. Its delicate looped texture is sure to make your handiwork look even more special.
Join Our Mailing List
Sign up to get the latest updates, along with fresh patterns and tutorials, right to your inbox